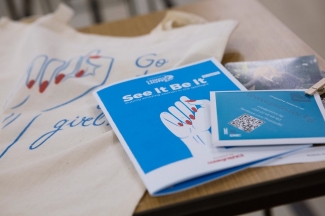 SEE IT BE IT BULGARIA
Noble Graphics x Cannes Lions
See It Be It is an acceleration program launched in 2014 by Cannes Lions, as a reaction to under-representation of women at creative leadership levels in the advertising industry.
It is a world-class program with lectures and mentoring sessions focused on women in the advertising industry and the challenges they face in their professional development.
See it Be it Bulgaria brought Cannes Lions in Bulgaria for the first time. It inspired 300 people, which attended the event, who had the chance to listen to 17 speakers from around the world. 10 young girls had the exclusive chance to meet with professionals from the industry who became their mentors.